Nathan Drake (Nate):
A modern day treasure hunter, Drake lives in a world full of thieves and smugglers. But, unlike his counterparts, Drake is driven more by the thrill of and historical intrigue, rather than the economic profit if the treasure. He is gifted with a puzzle-solving and uncanny mind along with a remarkable imagination
Victor Sullivan (Sully):
Victor Sullivan is Drake's trusted partner and mentor. Sully is a seasoned explorer and fortune hunter. He is endowed with knowledge of everyone there is in the illicit global antiquities trade.
Katherine Marlowe: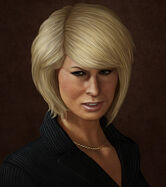 Katherine Marlowe is the leader of a secret organisation dating back to the era of Queen Elizabeth. Nathan Drake and Marlowe dispute over Sir Francis Drake's ring, which sends them across the globe and into parts of the Arabian Desert. She is a cunning and manipulative enemy, one of the heaviest enemies Nathan and Sully have ever faced.
Elena Fisher:
Elena Fisher is a former journalist. She represents a female version of Drake(but can obviously not be as good.). She can be seen in all four major games, and in Uncharted 4 she is shown as married (to Drake). She has a daughter named Cassie.
Samuel Drake :
Sam is Nate's brother.  He is a professional thief and treasure hunter. His appearance is seen only in Uncharted 4. His life has been spent stealing to support him and his brother, and in a wide range of prisons.
Harry Flynn:
Harry Flynn is an English treasure hunter, employed by Zoran Lazarvic in Uncharted 2. He is also an associate of Nate and Chloe Frazer in Uncharted 4